custom yeti/sasquatch with portrait cat ornaments // summer 2022 PRE-ORDER
$

40.00 Sold Out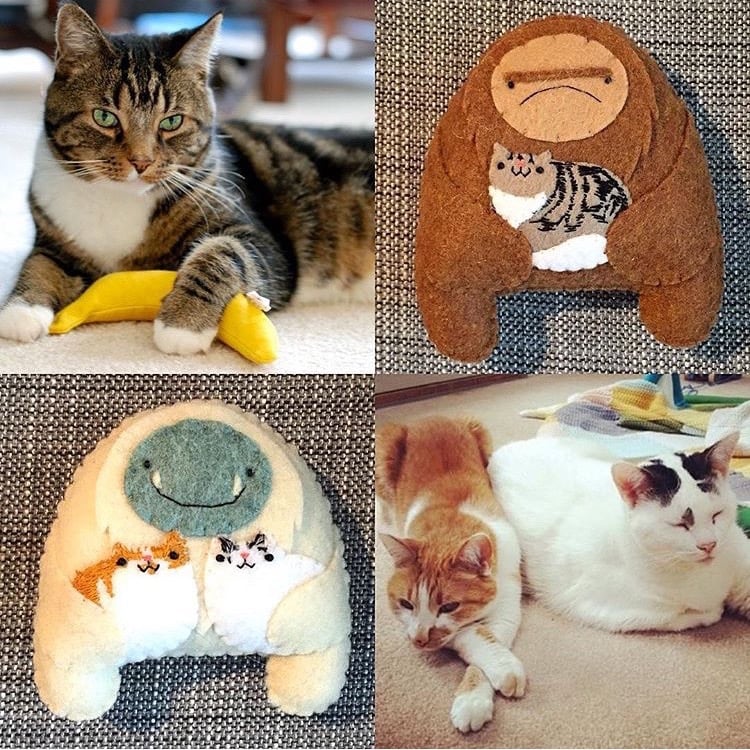 PLEASE NOTE: this is a custom item that includes EMBROIDERED PORTRAITS of your cat(s), and takes a significant amount of time to complete. I release these in limited quantities so that I can really take the time I need to complete the portraits. This first batch of ornaments will ship out starting in late July. If time allows, I will have at least one more batch of these available later in the summer (or maybe even two!)
PLEASE READ CAREFULLY!

* * *
This listing is for one custom yeti or sasquatch mini plush holding between one and three custom/portrait cats. Available in VERY limited quantities, these *will* be finished in time to gift for the holidays. Estimated shipping date for this batch is late July to early August.
You can choose either yeti or sasquatch, his expression, and the expression(s) of your cat(s), which will be based on photos that you provide. It will come strung so you can hang it as an ornament or display as a little wall hanging.
The cats will be tiny portraits (again, based on photos provided by you), and I will be doing my best to make them look like your cats, but some artistic license must be granted to me. I promise they will be the best likeness that I can provide, but within the parameters of my style and the medium, so some details may not be manageable or visible. Purchase of this custom item means you understand this. All sales are final.
Main listing is for yeti or sasquatch with one cat. *If you want a second or third cat, choose and add "2nd additional cat" and "3rd additional cat" from the drop down. (Third cat requires a little bit of a size up on the yeti/sasquatch, so is a little more than second cat to allow for this.)
ABOUT THEIR FUR: pricing on cats assumes a moderate amount of embroidery detail for the cat's fur/coloring. If your cat or cats is solid or mostly solid colored, you may receive a partial refund. But if your cat or cats has complicated striping or patterning (eg. tabby or calico cats. yes, Maine Coons generally fall into this category!), you will also need to select the "complex fur" add-on, once for each cat. If you do not select this add-on but send me photos of cat(s) with what I deem to be complicated patterning, I reserve to invoice this additional amount per cat. I know this seems complicated, but it makes it much easier for me to charge what I need to for the amount of time that these portraits take to create. If you have a cat that does not require even moderate amounts of embroidery detail, I will notify you *after* I finish your piece to let you know if you will be receiving a refund.
BONUS: This year I am again offering the option for your yeti or sasquatch to be holding your cat or cats, PLUS an additional non-cat item. This can be selected from the drop down as an add-on as well, but is limited to things that I already make regularly. No new custom designs for this option, please and thank you. Examples of what you might select: donut, ice cream, taco, toast, teddy bear, pizza...
PROCEDURE: After checkout, you will receive an email from me with questions to answer about the details of your yeti or sasquatch and cat(s). PLEASE MAKE SURE THE EMAIL YOU USE AT CHECKOUT IS ONE YOU USE REGULARLY so that you can reply promptly to my email (and any future questions) and I can get started on your piece right away!
PLEASE NOTE: If "custom yeti or sasquatch with one cat" is not available in the drop down menu, then all available pieces have already been purchased.
Shipping for these is via USPS priority mail or first class International Mail. Alternate options are available upon request, with applicable additional fees.
THANK YOU FOR READING TO THE END! NOW LET'S DO THIS! ;)
Share