cuddly yeti + sasquatch mini plush
$

24.00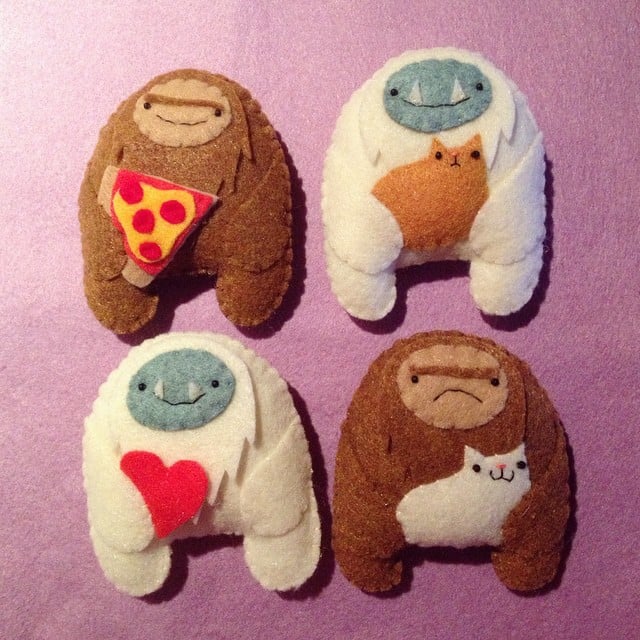 yeti + sasquatch are holding things! also: soft + plushy.
wool/rayon and/or ecofelt with hand-stitched details. all hand-stitched. No glue, with the exception of sasquatch's unibrow.
these pudgy little guys measure approximately 3" tall and 2.5" wide. each comes strung with red + white bakers twine for hanging; twine can easily be removed if you do not want to hang your new friend.
choose from options below; you may choose alternate customized details with the add-on options in the drop-down menu.
mini plush options:
1. sasquatch with pizza
2. yeti with pizza (not shown)
3. yeti with heart
4. sasquatch with heart (not shown)
5. yeti with orange cat
6. sasquatch with ivory cat
by default all plush are smiling except for sasquatch with ivory cat.
custom options: change of expression(s), cat color (tan, black, light gray, charcoal gray; black has no visible nose or mouth)
due to the handmade nature of these creatures, your individual yeti/sasquatch may vary just slightly from the photo. unless customization options are selected the details will be the same as in photo, and all will be ferociously cute!
made-to-order items are made JUST FOR YOU when you order. please allow up to 5-7 business days (not including shipping time) for your order to be mailed.
shipping is via USPS Priority Mail so your yeti stays well protected in a sturdy box! If you'd like, you may opt for a padded envelope + first class mail and the difference in shipping will be refunded to you. Just leave a note at checkout!
Share